Transport
Private transport
Bicycles
Amsterdam is full of bicycles. The Dutch are true bike fanatics; practically everyone has one or more bicycles and there are lanes everywhere. These separate bicycle lanes, together with separate cyclists' traffic lights are meant to make the roads safer for cyclists. The most enjoyable way to discover Amsterdam is by bike. On a bike you can go places where no cars are allowed, and buses and trams cannot take you. Any bike will do in Amsterdam – as long as it gets you from a to b, it does not matter what shape it is in. However, the brakes and the lights must work or you risk getting a fine. The afac (Amsterdam Fiets Afhandel Centrale) collects all the bikes that have been removed by the authorities or have been found In the locker bike sheds you can park your bike and have it guarded for free for the first 24 hours. After that you pay €0.50 for the second and for the third day. If you want to park your bike even longer, you must pay €2 a day. For more information and locations, go to www.locker.amsterdam.nl (Dutch only).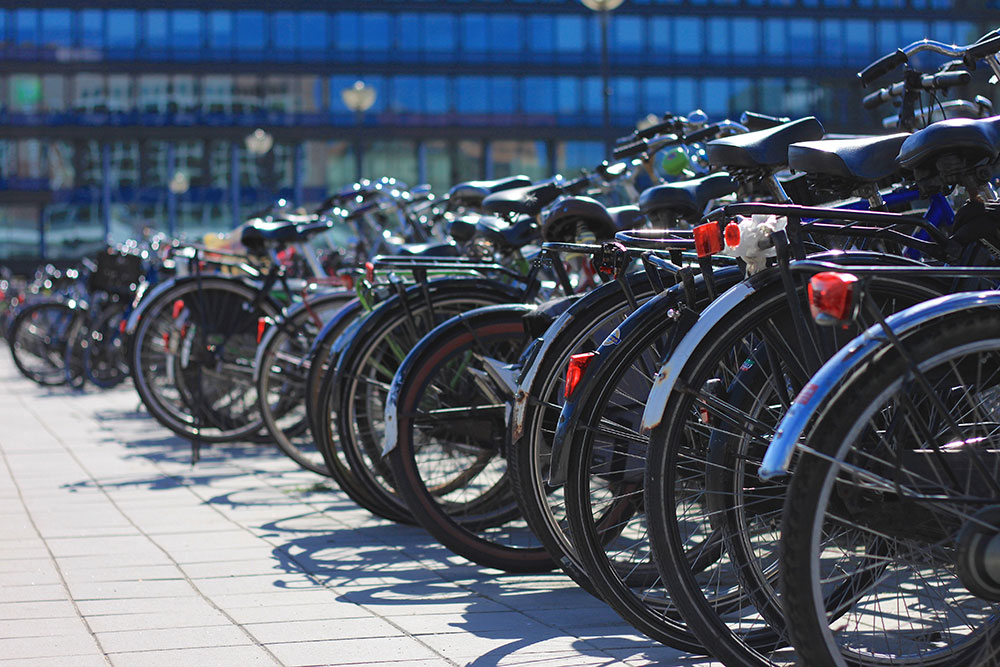 You can buy second-hand bicycles at most bicycle repair shops. A second option is putting up an advertisement on the notice board of your local supermarket or library. On www.marktplaats.nl there are many bikes for sale. Do not buy bikes from strangers in the street – chances are that it has been stolen, which means you risk being arrested or having to pay a €160 fine. You might even get a criminal record if the theft was reported. Members of the asva student union can buy second-hand bikes for €60 plus €15 membership, every Thursday. However, you get the bycicle without a lock. For details, go to www.asva.nl.
Bicycle Addresses
ASVA Student Union
Nieuwe Achtergracht 170
020 525 29 26
Open weekdays from 12.30 to 16.00 hrs
Sale: Thursdays at 12.30 hrs
www.asva.nl
Yellow Bike
Nieuwezijds Kolk 29
020 620 69 40
www.yellowbike.nl/en
MacBike
020 620 09 85
www.macbike.nl
Waterlooplein 19
Stationsplein 5
Weteringschans 2
Marnixstraat 222

Rent-a-bike
Damstraat 20-22
020 625 50 29
www.rentabike.nl
Bike Trip
From flevopark via ransdorp to durgerdam
Distance: 23 kilometres
Time: ca 1,5 hours
Start and finish: tram stop flevopark
Just outside Amsterdam there is a lot to discover. This bike trip takes you to a couple of real gems. On a sunny day take your bike and follow this itinerary via Ransdorp to Durgerdam and back.
Watch the bike trip:
The itinerary starts at the Flevopark tram stop, at the end of Insulindeweg. Go left and take the cycle lane across the large bridge (Amsterdamse brug). Cycle straight on. You pass several crossings and go towards the next large bridge (Schellingwouderbrug). Cross the bridge and cycle straight on along Schellingwouderweg until you get to a roundabout. Take the first turn to the right (Durgerdam). Immediately afterwards, at the junction, keep to the left, staying on Liergouw. Cross the road towards the cycle path. Take the viaduct underpass, going towards Ransdorp. Read the next part very clearly before you go any further. Follow the road. After three hundred metres, turn left, sticking to the cycle lane, on Zwartgouw. The allotment gardens are on your left and on your right you have pastures. After the wooden bridge, immediately turn right, taking the cycle path. In the distance you see Ransdorp tower. Half way take the wooden bridge on your right and follow Weerslootpad to the left. Cross the next wooden bridge. Immediately turn left until you get to Ransdorp tower, famously drawn by Rembrandt.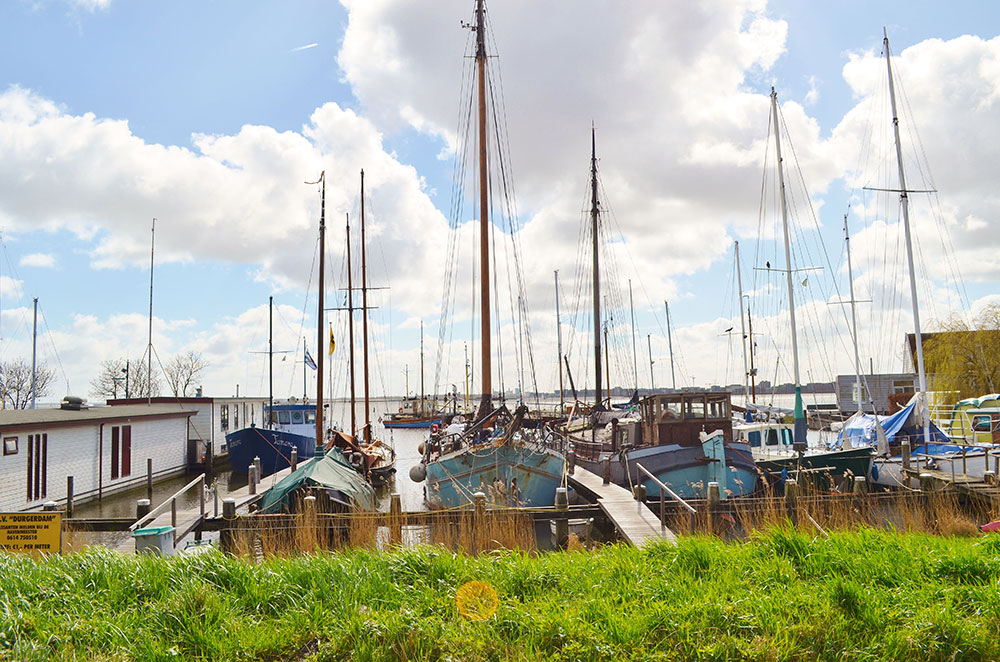 In the 15th century Ransdorp became a prosperous village, mainly through shipping and trade. This enabled the villagers to build the 32 metres high Ransdorp Tower in the early sixteenth century. You can walk or cycle around the church. In summer (April to September) you can climb the tower in the weekend. In July and August you can also visit on weekdays. You pay €0.50 for a lovely view of the countryside.
After your tower visit, you circle the church to its other side and cross the drawbridge on the left. At the next T-junction turn right (Bloemendalergouw). Cycle straight on. After a kilometre follow the road when it curves to the left. Ignore all cycle lanes and cross a small but steep bridge, towards Holysloot. Cycle straight on for a few kilometres. Turn right at the next, diagonal, T-junction. However, you can, if you wish, take a short detour to the left, to a nice Holysloot pub in the old village school where you can sit outdoor too. Die-hard cyclists may choose to take the ferry to Broek in Waterland for a longer but also terrific trip.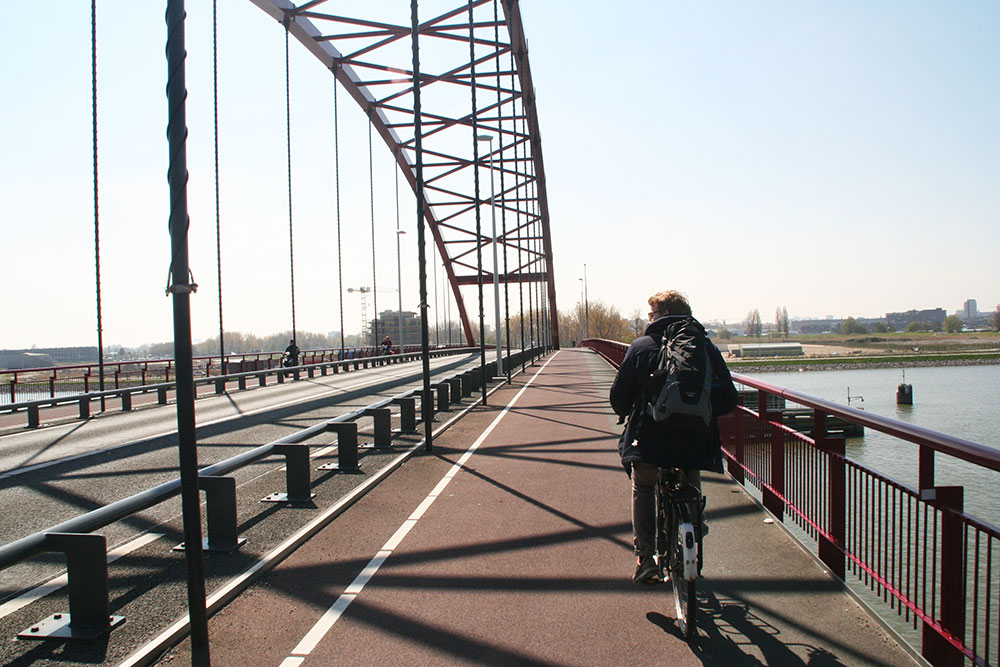 Returning from Holysloot to the diagonal T-junction, cycle straight on. If you haven't made the detour, turn right at this junction. At the next T-junction turn left, and follow the dike road circling the low polder on your right. At the end of the dike road, cross the road at the T-junction. Take care to avoid racing vehicles and cyclists coming from left and right. Put in an effort to climb the steep IJsselmeerdijk, where you turn right. Follow the cycle path on the dike for circa four kilometres until you reach Durgerdam. Cycle straight into the village. Here you'll find the Amsterdam Village Hotel where you can enjoy some traditional Dutch apple pie or a bowl of hot pea soup.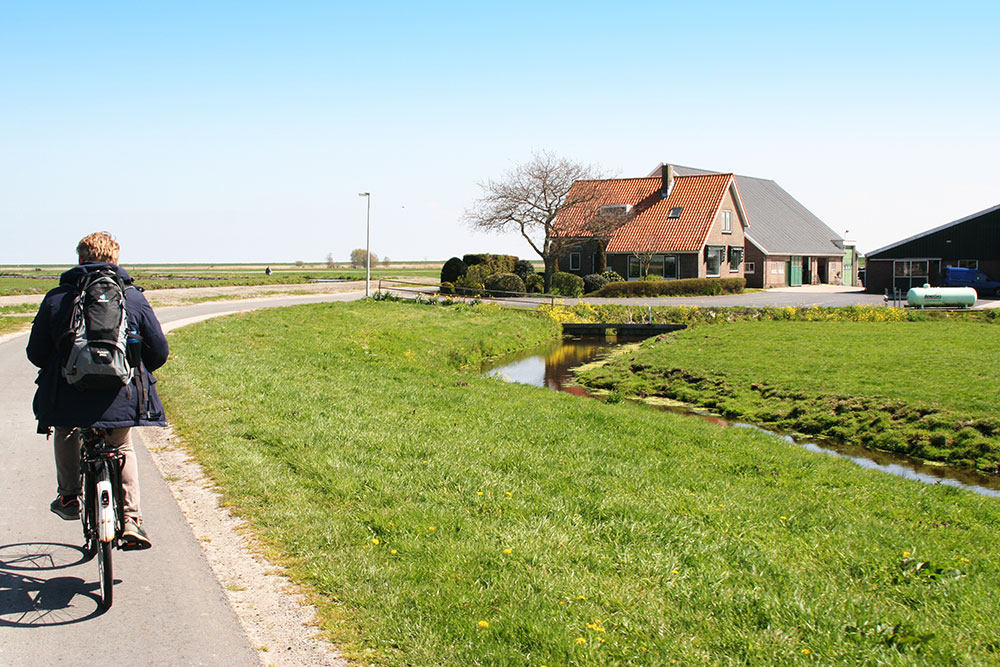 Immediately on leaving the built-up area, take the cycle path to the right running along the dike. At the end, take the viaduct underpass and cycle straight on to the large bridge across the road, your old friend, the Schellingwouderbrug. Take the bridge underpass, and then turn left to climb the bridge stairs with your bike. Cross the street after you have crossed the bridge. You are then facing the last stretch along the Amsterdamse Brug, returning to your starting point.
The trip will take you an hour and a half, or longer if you wish!
Theft Prevention
Bicycle thieves are everywhere, so it is essential to secure your bike. Fasten both the front wheel and frame to a stand post or railing using a strong lock. For advice on how to keep your bike safe from thieves, ask the rental companies or specialist bike shops which you can find at the end of the chapter. You can buy good and cheap locks at the Waterlooplein, as well as in bicycle (repair) shops.
Renting
If you do not need a bike regularly, you can also rent one. In the addresses we've listed a couple of places. You will have to pay a deposit to take a bike out, but some shops accept your passport and credit card instead of cash. The cheapest day rate is around €9.50; the deposit can be anything from €50, a passport, identity papers or credit card. Many Dutch bikes brake by back-pedalling. This can take some time to get used to, so if you prefer handbrakes, ask for a bike with handbrakes.
Ov bicycles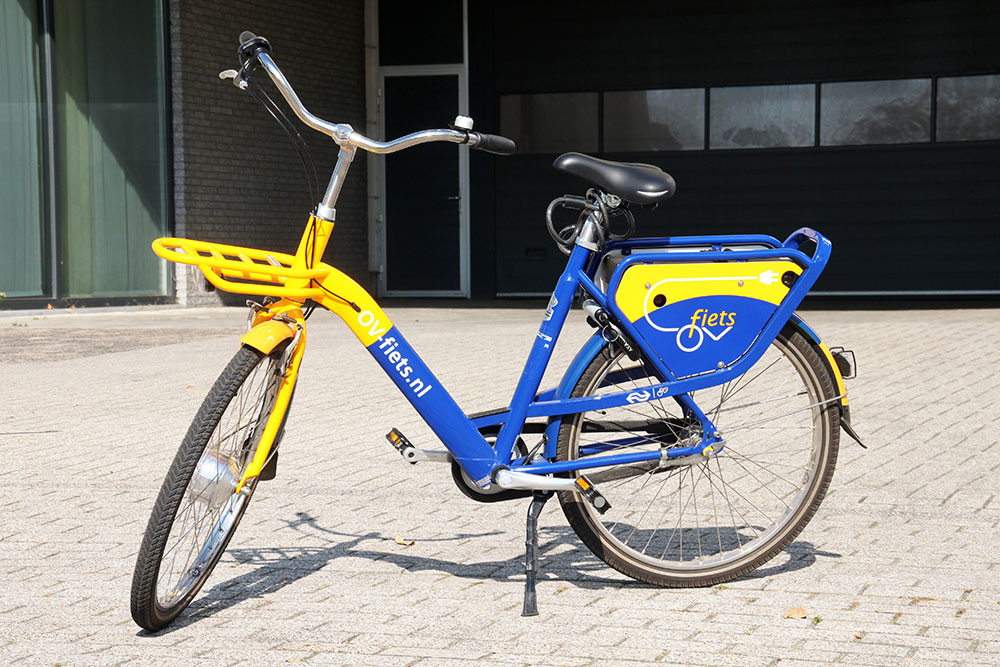 If you feel like cycling, hire an ov bicycle. You can hire one at most stations and return it to many other locations. Look for locations at www.ov-fiets.nl. You can also subscribe via this site. To hire a bicycle you need to subscribe or possess an ov-chipkaart.
Bicycles taxi
In Amsterdam you can use the bicycle taxi (fietstaxi). You can find them at Damrak, Leidseplein and Rembrandtplein.
Cars
When driving through the city, watch out for trams and cyclists. Trams always have right of way and cyclists usually take it. Take care especially when turning, and give way to cyclists. Many Amsterdammers, whether they're pedestrians, cyclists or drivers, do not follow the traffic rules. So please be careful and do not take any risks. Most of the city centre is one-way only; when driving along canals make sure you always stay to the right of the canal. Diamond-shaped signs with a yellow centre indicate you have right of way; in all other cases, yield to traffic from the right. The worst thing about driving in the city is finding a place to park. If you park where parking is forbidden, or if you forget to pay your parking fee, the traffic warden will give you a fine, or even tow away your car. If your car has been towed away, it will take a phone call to the traffic warden's office and a large sum of money to get it back.
Car Addresses
The Traffic Warden Office
Telephone number: 14 020
De Clercqstraat 66 to 68
Burgerweeshuispad 301
Bos en Lommerplein 250
Oranje-Vrijstraatplein 2
Amstel 1
RDW | Keuringsstation
Amsterdam | Tijnmuiden 1
0900 07 39 (€0.10 per minute)
www.rdw.nl
Europcar Autoverhuur
Overtoom 197
020 683 21 23
www.europcar.nl
Budget Rent a Car
Aaron Coplandstraat 6
088 284 70 21
Schiphol Airport
088 284 75 50
http://www.budget.co.uk/
Green Wheels Netherlands
Postbus 4031 | 3006 AA | Rotterdam
088 210 01 00 (€0.35 per minute, local costs)
www.greenwheels.nl
(Dutch only)
Driver's Licence
If your driver's licence was issued in an eu country, it is valid in the Netherlands for one year, provided you drive a foreign car. After this year, or if you want to drive a Dutch car, you need to apply for a Dutch driving licence. It will take about a month for the application to be processed. Non-eu nationals need an international licence in addition to their regular licence. This international licence, for which you have to apply in your country of origin, is valid until your tourist visa expires. After that it has to be exchanged for a Dutch driving licence. This procedure takes about three months. If you do not have a driving licence yet, you could try to get one in the Netherlands. However, taking lessons and applying for a driving test can take a lot of time and money. If you have any questions about this, please contact the Department of Transport (Rijksdienst voor het Wegverkeer).
Car Rentals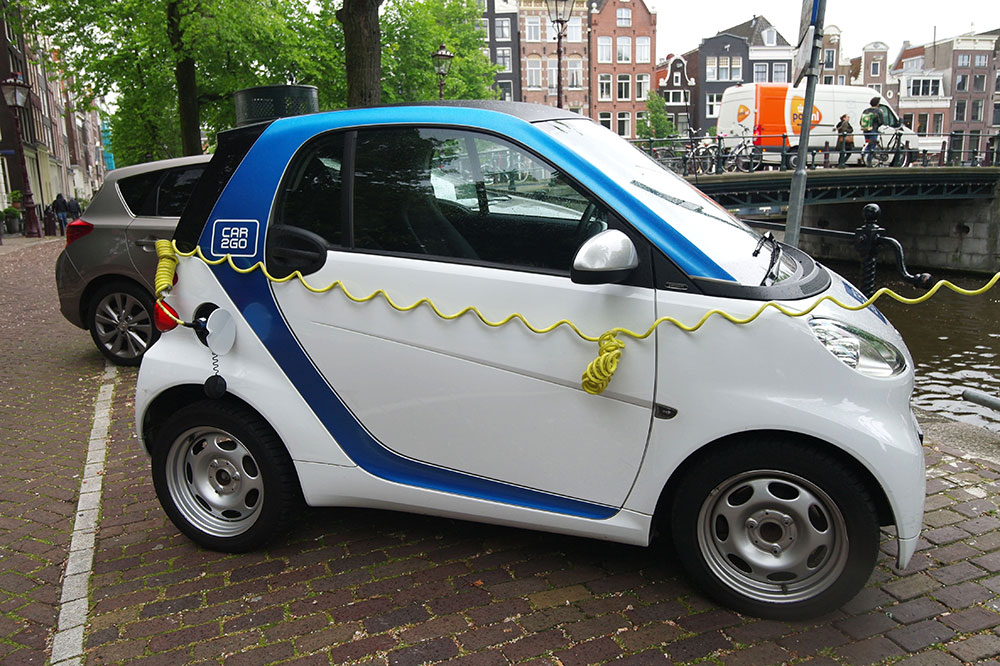 There are several options if you want to rent a car. To be able to rent a car, you have to have been in possession of your driver's licence for at least one year, and you will also have to pay a deposit of around €250. For special conditions, such as a minimum age requirement, contact the rental company or take a look at their website. If you only need a car occasionally, you can subscribe to Green Wheels. You only pay when you rent a car, and there are no monthly recurring costs. You can reserve a car 24/7 on the website or call 088 210 01 00. There are special parking spaces for Green Wheel cars. You will have your own card, with which you can unlock and start your car. You can also rent a car online at www.easyterra.com. The pick-up point is at Overtoom 333.