Transport
Public transport
Amsterdam has an efficient public transport system with numerous bus and tram routes, metro lines and ferry links. Centraal Station is Amsterdam's main public transportation junction. Dutch students have a public transport pass (called the ov-studentenkaart). Some eu/eea students may also be eligible for one, but only if you receive a Dutch student grant.
Check
www.duo.nl
and click on international visitors and then on student grants, or call
050 599 77 55
to see if you are entitled to a student travel card.
If so, with the ov-studentenkaart, you can travel for free during the week or on weekends. On the days you're not entitled to travel for free, you get a forty percent discount with the ov-studentenkaart. You can bring along a maximum of three travel companions on the train at a forty percent discount if they travel in the same carriage and if you travel after 09.00 hrs.
For information about rates, routes, lines and timetables, call the national information number
0900 92 92
, or check
www.9292ov.nl
.
Ov-chipkaart
On all public transport, your ticket is a so called ov-chipkaart (public transport smart card). If you don't have a student travel card as mentioned above, you deposit money on the card, which will either be a personalised card or a general one. Machines to deposit money on your ov-chipkaart can be found at train stations, in supermarkets, tobacco shops and on some buses. You can also buy disposable ov-chipkaarten from the driver, but they are relatively expensive.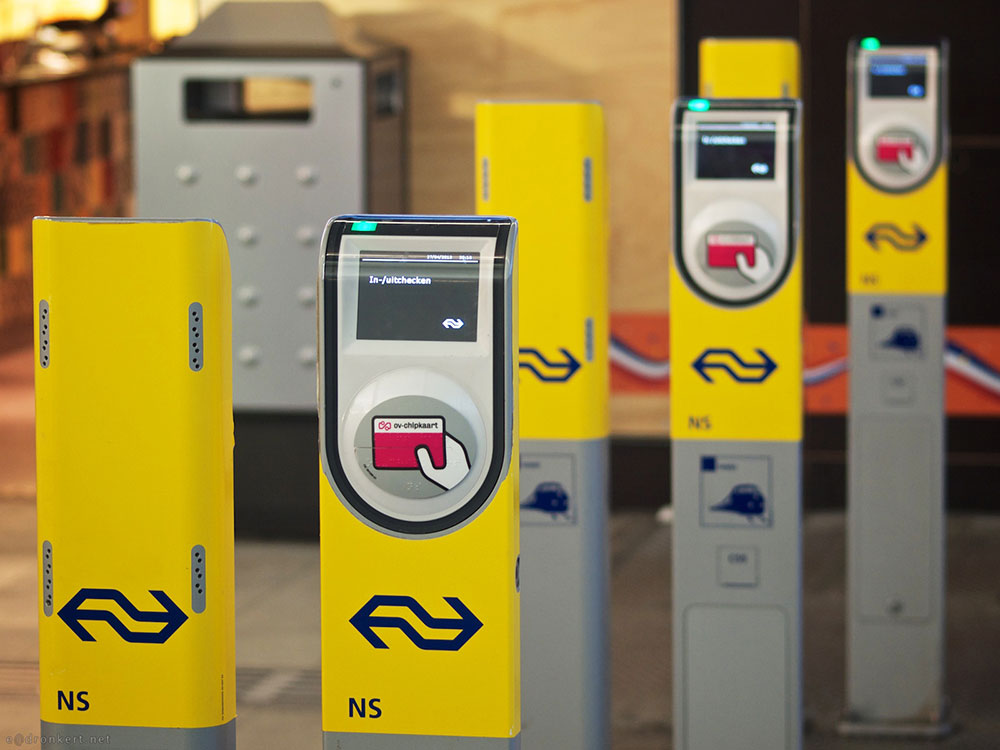 At the beginning of your journey you hold your card against one of the card readers. At metro stations you have to check in, in order to access the platform. The ov-chipkaart readers for the train are on the train platforms or in the main hall, and for the tram and bus inside the vehicle. When you check in, the reader deducts a standard fare from your card. At the end of your journey or if you change to another kind of transportation, you have to check out. The cost of your journey will be balanced against your standard fare. The remaining amount will be put back on your card. So, if you check in for the metro, €4 will be deducted from your card. If your journey costs €2, €2 will be put back on your card when you check out.
You can buy a general ov-chipkaart or apply for a personalised card. With this personalised card you can choose to automatically add an amount from your bank account to your ov-chipkaart whenever the credit on your card goes below €5. This way you will always have enough money on your card to travel. Keep in mind that to travel by train, you need to have at least €20 on your ov-chipkaart. The advantage of a general card is that more people can use the same card (but not at the same time!). For more information about the ov-chipkaart, check the website www. ov-chipkaart.nl. Here you can choose for the English version of the site. If you forget to check out, you lose the standard fare deducted when you checked in. If you forget this too often, your card will be blocked. You cannot check in if the amount on your card is below €0. If you do not have an ov-chipkaart with a student subscription you can buy a discount card.
Train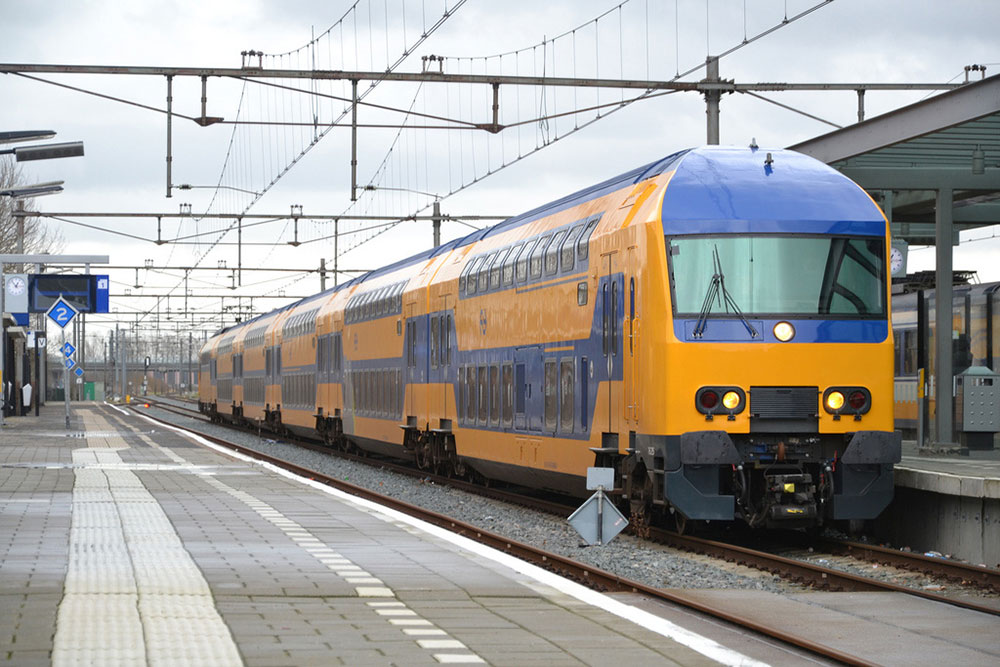 The Dutch national railway company (Nederlandse Spoorwegen, ns) runs a busy railway network. In and around Amsterdam you can travel by train to the following stations: Lelylaan, Sloterdijk, Centraal Station, Muiderpoort, Amstel, Duivendrecht, Bijlmer ArenA, RAI, Zuid, Holendrecht, Amsterdam Science Park and Diemen (Zuid). You can travel second class or first class – at a forty percent surcharge. You can take your bicycle with you, but only if you buy a separate day ticket for your bike, at a cost of €6. However, you cannot bring your bike in traffic hours. Night trains run between Amsterdam Centraal Station, Schiphol, Utrecht Centraal, Leiden Centraal, Den Haag Hollands Spoor, Delft, Rotterdam Centraal, Dordrecht, Breda, Tilburg, 's-Hertogenbosch and Eindhoven. Buy your disposable ov-chipkaart before you board. You can do this at the ticket office or the ticket machine and check in on the platform with your ov-chipkaart; otherwise you risk a fine. You cannot buy your disposable ov-chipkaart on the train or check in on the train!
Bus
Amsterdam has various bus lines and a regional network connecting the capital to surrounding towns and villages. Amsterdam also has a late-night network, with special rates. Night buses, leaving from 00.30 hrs onward, mainly depart from and arrive at Centraal Station. When the bus you need approaches, raise your hand to make sure the driver sees you and stops.
Metro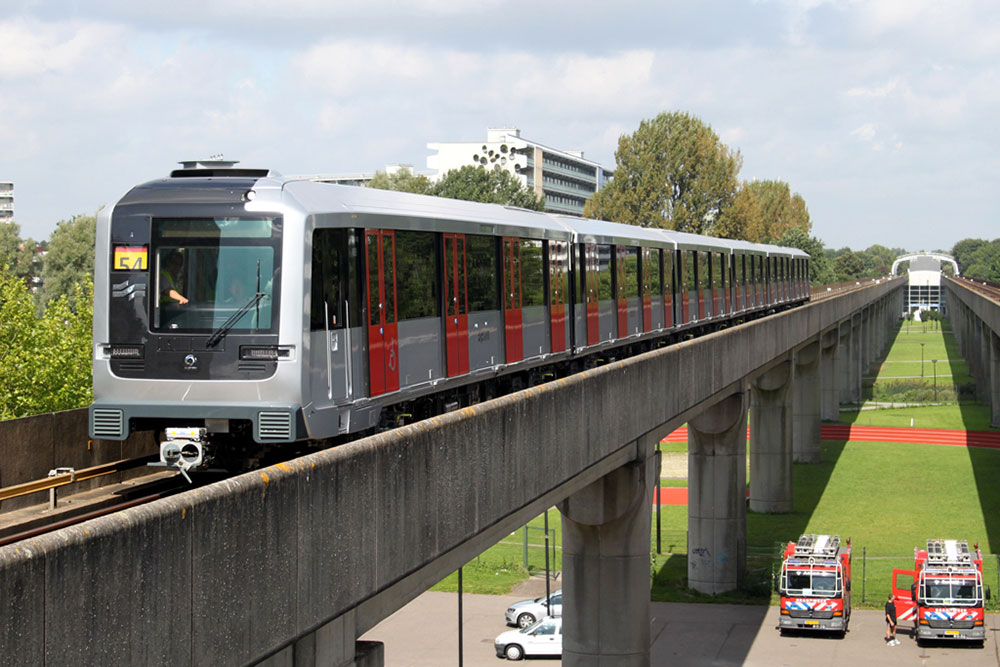 The metro connects the centre of Amsterdam to the suburbs. Lines 53 and 54 run parallel as far as the metro station at the Van der Madeweg, where they split and run on to Gaasperplas Station (line 53) and Gein Station (line 54). Another metro line, line 51, connects Centraal Station to Amstelveen (Westwijk). Line 50 runs from Gein in the south-east to Isolatorweg, near Amsterdam Sloterdijk Station, in the north-west. In 2017 the Noord-Zuidlijn – a metro line connecting the north and south of Amsterdam – will be opened.
Trams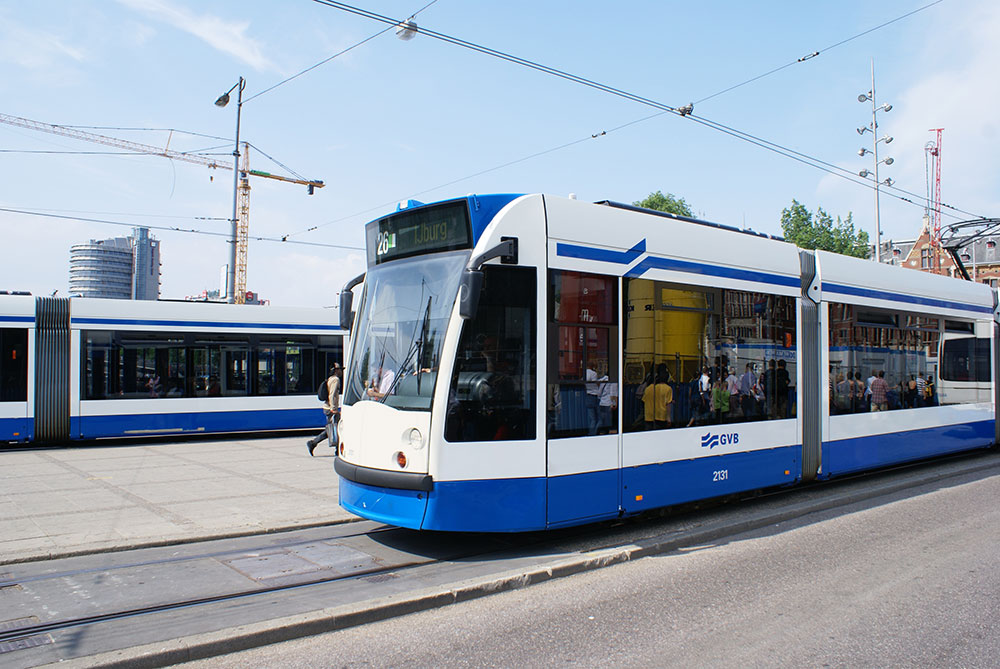 Trams are a fast and reasonably cheap mode of transport. The 16 lines crisscross the city. You can take a tram almost anywhere. Check in with your ov-chipkaart inside the tram or buy a ticket, and do not forget to check out before you get off. When your tram approaches your stop, press the red button to signal that you wish to get off.
Ferries
Behind Amsterdam Centraal Station, free ferry services connect the city centre to Amsterdam Noord across the IJ. Apart from the ferries there is also a waterbus to the Java-eiland. Ferries depart more frequently during peak hours.
Taxi
Taxis are the most expensive form of transport in the Netherlands, but you can keep the costs low by sharing one with others. If you need a taxi do not try to hail one in the street, but call for one instead. Dutch taxis are legally required to have number plates with black numbers on a blue background. A car looking like a taxi but without these plates is not allowed to carry passengers, so beware.
Taxi addresses
Taxicentrale Amsterdam (TCA)
020 777 77 77 | Firma Taxi 672
020 650 65 06
Wielertaxi
The price for three minutes per person is €1. The minimum price is €2.50 per person. If you want to book a wielertaxi, call 06 18 59 51 53 or 06 28 24 75 50
www.wielertaxi.nl
Tuk Tuk Company
Tuk Tuks are small cars on three wheels. They drive through the city and you can use them like a taxi. They are cheaper than regular taxis, and a little faster. You can book one on their website or you can hail one in the street. If you do make a reservation, you have to do this two days in advance.
Tuk Tuk address
Tuk Tuk Company | 088 885 08 55 | www.tuktukcompany.nl (Dutch only)